Nonton Bareng & Diskusi Film The Social Dilemma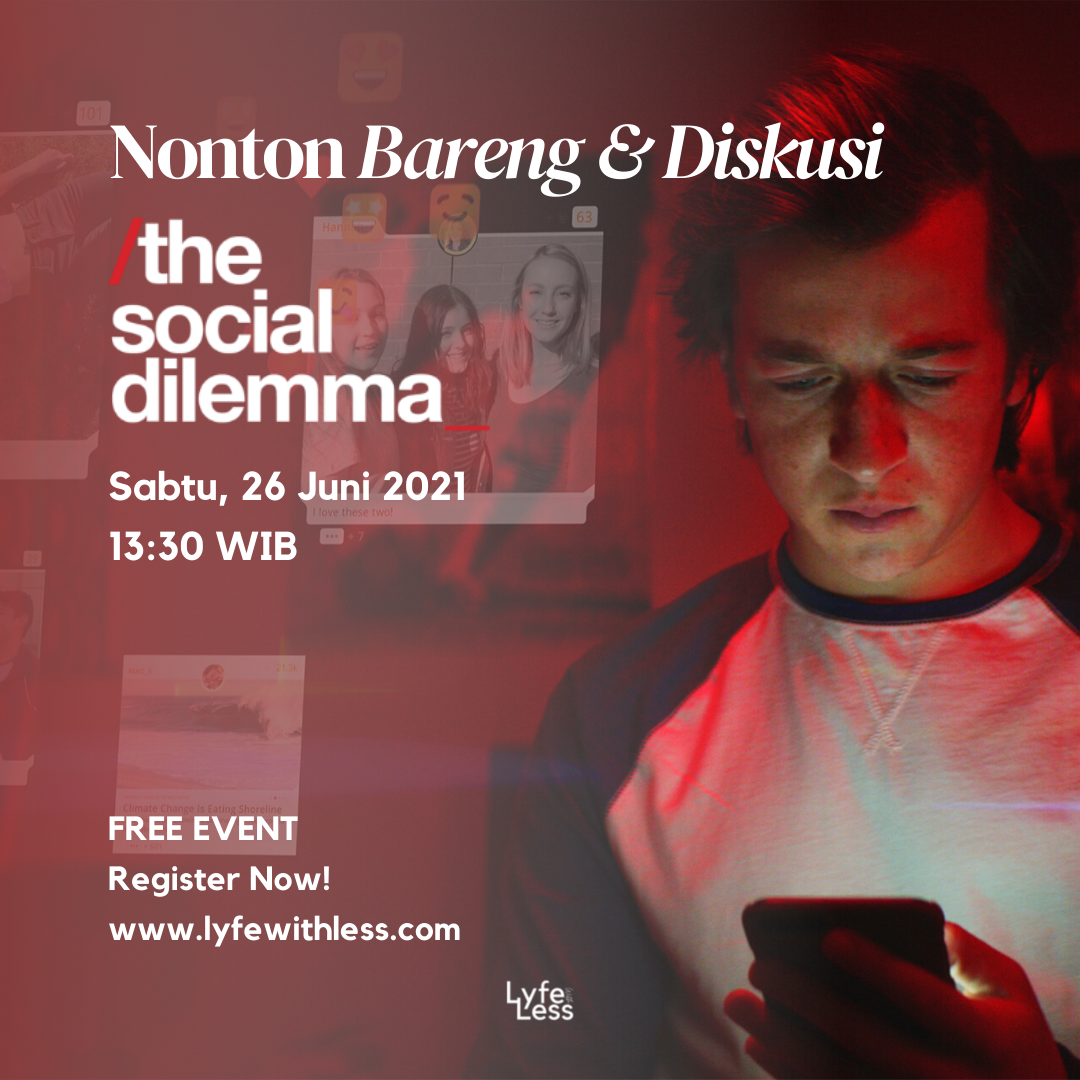 Event Date:
June 26, 2021
Tentang film The Social Dilemma: Kita posting, klik tombol like, save, comment, share setiap hari. Bahkan kadang hanya sekadar menggulirkan layar saja sudah kita habiskan berjam-jam — tetapi apa konsekuensi dari ketergantungan pada media sosial? Ketika platform digital semakin menjadi jalur kehidupan untuk tetap terhubung, orang dalam Silicon Valley mengungkapkan bagaimana media sosial memprogram ulang peradaban dengan mengungkap apa yang tersembunyi di sisi lain layar kita.
---
Lyfe With Less ingin mengajak teman-teman semua untuk menonton bersama sebuah film dokumenter dari Netflix berjudul The Social Dilemma. Mengajak teman-teman untuk lebih aware pada dampak ketergantungan terhadap media sosial yang berlebihan baik terhadap kesehatan mental, cara pandang dan generasi penerus.
Rundown:
13:00 – Waiting room dibuka. Peserta yang klik link ZOOM akan masuk ke waiting room.
13:30 – 13:45 – Opening from Lyfe With Less
13:45 – 15:15 – Nonton bareng (durasi 1h34m)
15:15 – 15:30 – Nonton bareng Exclusive Bonus Clip The Social Dilemma (Discrimination & Mental Health Dilemma)
15:30 – 16:00 – Discussion
---
Yang perlu diketahui dari acara nobar ini:
Acara nobar ini GRATIS.
Dilakukan dengan cara streaming dari akun Netflix Lyfe With Less dan akan disiarkan melalui ZOOM untuk bisa ditonton oleh peserta yang sudah registrasi.
Jumlah peserta dibatasi hanya 100 orang dan diharapkan yang sudah mendaftar pasti hadir karena sayang jika kuota kalian ambil namun tidak bisa hadir.
Link ZOOM dikirimkan ke email yang kalian tulis di form ini dengan subject "Confirmation Email" sesaat setelah selesai mengisi form.
Please be mindful dalam mengisi form! Typo penulisan email = tidak dapat link ZOOM dan kami tidak bertanggungjawab untuk mengirim kembali dengan alasan apapun.
Acara nobar ini sudah didaftarkan pada pihak The Social Dilemma dan sudah mendapatkan consent dari mereka.