#PakaiSampaiHabis produk Dear Klairs dan dapatkan diskon Rp80,000 untuk pembelianmu berikutnya.
*Syarat dan ketentuan berlaku.
** Selama persediaan reward masih ada.
#PakaiSampaiHabis 2022 Official Brand Partner
As a cruelty-free, vegan, and eco-friendly skincare brand that began in 2010 in Seoul Korea, Dear Klairs focuses on developing functional products meant for sensitive skin. Our core value: Respectful of the beauty of the environment and carries healthy values regarding the earth, simple and contains only the most necessary ingredients.
---
Cara mendapatkan reward #PakaiSampaiHabis X Dear Klairs:
#PakaiSampaiHabis produk Dear Klairs
Isi form Get Your Reward dengan lengkap. Jangan lupa upload bukti kamu sudah #PakaiSampaiHabis. Kamu bisa isi lebih dari 1 produk dalam 1x form. pisahkan dengan tanda koma (,) untuk produknya dan upload 1 foto bukti #PakaiSampaiHabis mu (foto keseluruhan empties yang kamu punya untuk produk Dear Klairs
Tunggu kami verifikasi data dan bukti #PakaiSampaiHabis-mu maksimal 7 hari kerja (bisa lebih cepat)
Cek email dari Lyfe With Less untuk mendapatkan kode voucher #PakaiSampaiHabis X Dear Klairs & kode voucher diskon ongkos kirim emptiesmu ke recycling center kami.
Rewardmu bisa langsung dipakai.
Upload ceritamu jadi Empties Heroes dengan template IG Story atau IG Feed yang kami lampirkan di email agar semakin banyak Empties Heroes lainnya di sekitarmu.
Jangan lupa kirim emptiesmu ke recycling partner & volunteer kami yang tersebar di 15 titik di seluruh Indonesia. Dapatkan alamatnya di email setelah kamu submit formnya ya.
---
Visit Dear Klairs's Channel: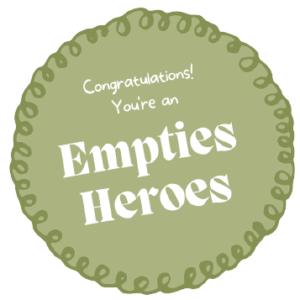 Yuk Jadi Empties Heroes!
Generasi bijak dan sadar yang bertanggungjawab dengan konsumsinya. Karena tanggungjawab konsumsi kita sejak kita mau membeli produk hingga selesai produk tersebut digunakan.