Jarte Beauty began in the year 2017 with the goal of being able to provide premium quality and efficient products for all beauty enthusiast. We believe that everyone deserves beauty and makeup has played a fun part in every woman's life. Throughout the year, Jarte Beauty have innovate new products in order to meet the needs of beautyenthusiast. We are focused on providing the best beauty experience and to offer the most efficient products to our customers. We are committed to always keep up with the trend in the beauty industry and keepinnovating premium quality and efficient products to serve the needs of our customers.
---
Cara mendapatkan reward #PakaiSampaiHabis X Jarte Beauty:
#PakaiSampaiHabis produk Jarte Beauty

Isi form Get Your Reward dengan lengkap. Jangan lupa upload bukti kamu sudah #PakaiSampaiHabis. Kamu bisa isi lebih dari 1 produk dalam 1x form. pisahkan dengan tanda koma (,) untuk produknya dan upload 1 foto bukti #PakaiSampaiHabis mu (foto keseluruhan empties yang kamu punya untuk produk Jarte Beauty

Tunggu kami verifikasi data dan bukti #PakaiSampaiHabis-mu maksimal 7 hari kerja (bisa lebih cepat)

Cek email dari Lyfe With Less untuk mendapatkan kode voucher #PakaiSampaiHabis X Jarte Beauty & kode voucher diskon ongkos kirim emptiesmu ke recycling center kami.

Rewardmu bisa langsung dipakai.

Upload ceritamu jadi Empties Heroes dengan template IG Story atau IG Feed yang kami lampirkan di email agar semakin banyak Empties Heroes lainnya di sekitarmu.

Jangan lupa kirim emptiesmu ke recycling center kami di

Jalan RC. Veteran Raya No.29b RW.1 Bintaro Kecamatan Pesanggrahan Kota Jakarta Selatan Daerah Khusus Ibukota Jakarta 12330 Indonesia
---
Visit Jarte Beauty's channel: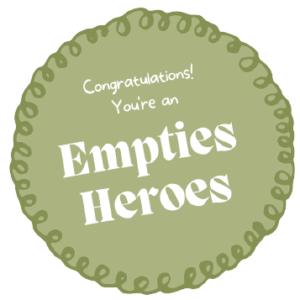 Yuk Jadi Empties Heroes!
Generasi bijak dan sadar yang bertanggungjawab dengan konsumsinya. Karena tanggungjawab konsumsi kita sejak kita mau membeli produk hingga selesai produk tersebut digunakan.