#PakaiSampaiHabis produk MOP Beauty dan dapatkan e-voucher 25% off untuk pembelianmu berikutnya.
*Syarat dan ketentuan berlaku.
** Selama persediaan reward masih ada.
#PakaiSampaiHabis 2022 Official Brand Partner
Mother of Pearl (MOP) is an Indonesian beauty brand company, founded by Tasya Farasya. All of the products are registered with Indonesian institutions BPOM, Certified Halal, and Vegan Friendly. Running with the vision to accommodate the market's diverse demographics and yearn only for the best quality products for consumers and actualized through the mission dedicating ourselves as a fast transforming brand to shape the trend and creating products with efficient yet innovative packaging. In addition, continuous products and service improvements through consumers feedback.
♻️
Langkah mendukung sustainability yang sudah dilakukan:
Belum ada
---
Cara mendapatkan reward #PakaiSampaiHabis X MOP Beauty:
#PakaiSampaiHabis produk MOP Beauty dan bersihkan emptiesnya.
Isi form Daftarkan Empties dengan lengkap. Jangan lupa upload bukti kamu sudah #PakaiSampaiHabis. Kamu bisa isi lebih dari 1 produk dalam 1x form. pisahkan dengan tanda koma (,) untuk produknya dan upload 1 foto bukti #PakaiSampaiHabis mu (foto keseluruhan empties yang kamu punya untuk produk MOP Beauty
Cek email dari Lyfe With Less untuk mendapatkan kode voucher AnterAja & list alamat recycler.
Tunggu kami verifikasi data dan bukti #PakaiSampaiHabis-mu maksimal 7 hari kerja (bisa lebih cepat), kami akan kirimkan email reward voucher dari brand partner setiap Jumat – Minggu.
Cek email kedua dari Lyfe With Less untuk mendapatkan kode voucher reward dari MOP Beauty
Rewardmu bisa langsung dipakai.
---
Visit MOP Beauty's Channel: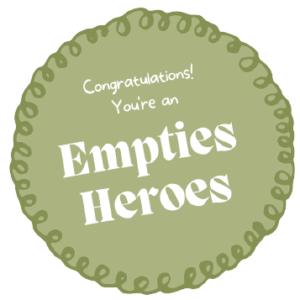 Yuk Jadi Empties Heroes!
Generasi bijak dan sadar yang bertanggungjawab dengan konsumsinya. Karena tanggungjawab konsumsi kita sejak kita mau membeli produk hingga selesai produk tersebut digunakan.