#PakaiSampaiHabis produk Sensatia Botanicals dan dapatkan Disc Rp50,000 untuk pembelianmu berikutnya.
*Syarat dan ketentuan berlaku.
** Selama persediaan reward masih ada.
#PakaiSampaiHabis 2022 Official Brand Partner
Founded in the small fishing village of Jasri, Karangasem, Bali in 2000, Sensatia Botanicals arose from the desire to create healthy skincare products that contain pure, natural ingredients. It began with just a small crew creating handmade, cold-pressed coconut oil soaps, and it wasn't long before the company was receiving requests for other products. Thus, began Sensatia Botanicals' evolution into the internationally renowned brand it is today. From the beginning, Sensatia Botanicals has aimed to be much more than just a skincare brand. It started as a profit-sharing cooperation with the goals of empowering the local community and siphoning a small portion of the world's affluence into a much-deserving village on the east coast of Bali. To this day, 20% of revenues still go directly to employees. Moreover, Sensatia Botanicals aims to maintain sustainability and have as little impact on the environment as possible.
♻️
Langkah mendukung sustainability yang sudah dilakukan:
Biodegradable formula for Bath Collection, Rewards for Empties Returned, Using 100% Post-Consumer Recycled Plastic for most of the product packaging, Biodegradable Fabric for Our Disposable Sheet Mask
---
Cara mendapatkan reward #PakaiSampaiHabis X Sensatia Botanicals:
#PakaiSampaiHabis produk Sensatia Botanicals dan bersihkan emptiesnya.
Isi form Daftarkan Empties dengan lengkap. Jangan lupa upload bukti kamu sudah #PakaiSampaiHabis. Kamu bisa isi lebih dari 1 produk dalam 1x form. pisahkan dengan tanda koma (,) untuk produknya dan upload 1 foto bukti #PakaiSampaiHabis mu (foto keseluruhan empties yang kamu punya untuk produk Sensatia Botanicals
Cek email dari Lyfe With Less untuk mendapatkan kode voucher AnterAja & list alamat recycler.
Tunggu kami verifikasi data dan bukti #PakaiSampaiHabis-mu maksimal 7 hari kerja (bisa lebih cepat), kami akan kirimkan email reward voucher dari brand partner setiap Jumat – Minggu.
Cek email kedua dari Lyfe With Less untuk mendapatkan kode voucher reward dari Sensatia Botanicals
Rewardmu bisa langsung dipakai.
---
Visit Sensatia Botanicals's Channel: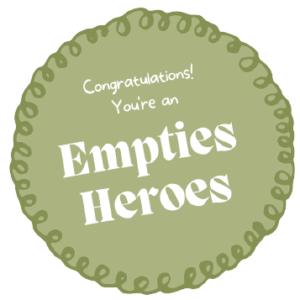 Yuk Jadi Empties Heroes!
Generasi bijak dan sadar yang bertanggungjawab dengan konsumsinya. Karena tanggungjawab konsumsi kita sejak kita mau membeli produk hingga selesai produk tersebut digunakan.